Can England's new enterprise zones get growth going?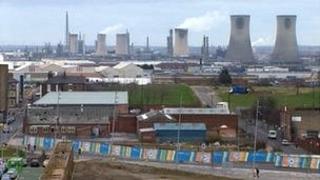 You probably won't have noticed anything different just yet, but a crucial part of the government's economic strategy has just come into operation.
From this week, England has 24 new enterprise zones stretching from the Scilly Isles to Tyneside.
They were announced some time ago, but with the start of the new tax year, the zones are now fully in operation.
On offer to businesses who want to set up in them will be a streamlined planning system and tax incentives.
Economic growth
The government hopes they'll play a big part in creating the private sector growth it so desperately craves.
But how will that happen?
Let's take the Tees Valley zone in the North East as an example.
Firstly, companies that move in or expand in to it will get up to five years of business rate relief worth £55,000.
Some firms will also be able to get more generous capital allowances, offsetting investment against tax.
And Tees Valley was the first zone to simplify the planning system by introducing six local development orders.
They will grant automatic planning permission to companies specialising in some types of manufacturing, engineering and green energy.
The people in charge of the Tees Valley zone hope those measures will allow it to create and support up to 1,200 jobs by 2015.
And Neil Kenley from Tees Valley Unlimited says the zone is already attracting interest.
He said: "Advanced discussions are already well underway with several parties keen to move onto enterprise zone sites, and as we work with them to help create the right environment for investment, we expect some exciting announcements very soon."
Highest unemployment
New jobs will of course be welcome in a part of Britain with the highest unemployment rate.
But there lies the problem. At the last count there were almost 30,000 people claiming Jobseekers Allowance across Tees Valley's seven parliamentary constituencies.
On that basis 1,200 jobs secured or created over two years is not insignificant, but it's not a solution to the area's economic ills.
And of course enterprise zones are nothing new.
A recent report by The Work Foundation looked at the lessons from the previous generation of zones in the 1980s and 1990s.
It found many had just diverted investment away from one part of an area to another - effectively moving jobs instead of creating them.
And you have to ask whether there will be much benefit if jobs are just created in the Tees Valley at the expense of neighbouring parts of County Durham.
The report also suggests that an immediate surge in new jobs in the old zones had often petered out, and even gone into reverse when the perks were eventually removed.
'Economic incubators'
But the government says it has learned lessons from earlier mistakes with many of the zones geographically larger than their predecessors.
There are of course other measures in place to encourage growth too.
Just this weekend Teesside will take a big step forward with the relighting of the blast furnace at its steelworks.
Its new owner SSI is one of several in Teesside to have got money from the government's regional growth fund
But make no mistake about it, ministers are talking up the prospects for the zones.
Communities Secretary Eric Pickles said: "We've planted these economic incubators all across the country to help accelerate growth, rebalance our economy with thousands of new businesses and local jobs in each location.
"Enterprise zones are set to become the crown jewels of how we make Britain the best place in the world to start and grow a business."
Big claims. We'll have to wait quite a few years though to see if they can really deliver.
Privately, even those in charge of the zones admit they won't be a panacea. But they do agree they'd rather have one than miss out while other areas cash in.