Southern Water's Bewl Water drought permit granted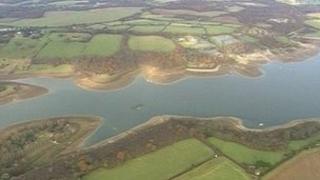 A water company's request to help refill one of the South East's largest reservoirs has been granted by the Environment Agency.
Southern Water requested a drought permit to boost levels at Bewl Water with water from the River Medway after the reservoir's supply fell to 41%.
The reservoir, on the Kent and Sussex border, supplies the Medway towns, Thanet and the Hastings area.
The Environment Agency said the permit remained in force until 31 March.
'Less demand on river'
Andrew Pearce, the Environment Agency's manager for Kent and south London, said: "We believe applying for a winter drought permit to maximise refill of the reservoir in March is a pragmatic approach enabling Southern Water to manage their supplies going into the summer months.
"This is the best time to apply for a drought permit because there is less demand on water in the river from agriculture and wildlife."
He said the permit was granted on condition that Southern Water ensured sufficient water flowed down the Medway.
Southern Water will be taking more water from its source at Yalding.
Meyrick Gough, from Southern Water, said taking water from the Medway would allow the company to conserve more water in the reservoir, help secure supplies and reduce the chances of water restrictions this summer.
Last week, Defra said much of southern and eastern England was officially in a state of drought.
In parts of the South East, groundwater levels are lower than in the summer of 1976.