Emma West sentencing: Criminals caught on camera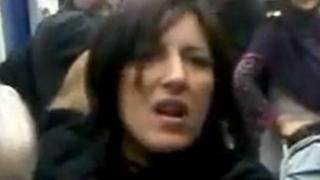 A foul-mouthed, racist rant. A carriage full of shocked passengers. A mobile phone recording every second. And 11 million views on YouTube.
Emma West, who was handed a community sentence on Monday, is just the latest in a string of miscreants to meet their comeuppance due to mobile phone cameras.
The video of West, filmed by another tram passenger, sparked a widespread public outcry with hundreds of comments on the video and on social networking sites.
But how has the rise of video technology in mobile phones changed law enforcement?
Monitor footage
Most phones now have video capability, with the first media coverage of a breaking story often gleaned from images posted on Twitter.
That was the case with graphic footage of the murder of Drummer Lee Rigby in Woolwich, with videos of those allegedly responsible quickly viewed by hundreds of thousands of people.
Organisations from across the spectrum of UK law-enforcement told the BBC that mobile phone evidence is becoming increasingly important.
A spokesman for the Metropolitan Police said: "Technology has moved on so much.
"Everyone's got a mobile phone - they can play an important part in an investigation."
After London was torn apart by rioting in 2011, Scotland Yard took the decision to increase its ability to monitor mobile phone footage in circulation.
And a spokesman for the Association of Chief Police Officers said they encouraged people to come forward with mobile phone footage of crimes.
He explained: "The police service works hard to secure evidence from any source during the course of an investigation.
"If information is found to be accurate and reliable, we will use it in court.
"Images and videos posted online, which link criminals to serious crimes, are treated like any other form of evidence and are increasingly being used to help secure successful prosecutions."
For Crimestoppers, the main issue with using submitted material is anonymity.
A spokesman said: "Crimestoppers has received a number of pieces of information about crime thanks to footage caught on camera and uploaded to the internet, which we have been able to pass on to police."
But he added the charity, which allows people to report crimes without revealing their identity, was unable to accept footage sent to them directly because of "anonymity issues".
And mobile phone footage can create problems.
In December 2011 a mobile phone recording by a passenger on board the Edinburgh to Perth train was viewed around the world on YouTube.
It showed Alan Pollock - dubbed "Big man" - throwing Sam Main off a train after he argued with a ticket inspector.
Mobile millions
For a time it seemed the footage would see the man viewed by many as a hero being prosecuted.
Eventually the Crown Prosecution Service said it was not in the public interest to prosecute either of the pair.
Mr Pollock's father Jim said the possibility of prosecution had been "hanging over" his son's head for weeks.
But overall it seems the ability for every citizen to capture vital evidence can mainly be a force for good.
And with millions of mobile phones in the UK today, expect another display of criminality to be uploaded to YouTube soon.