Bewl Water applies for drought help after dry spell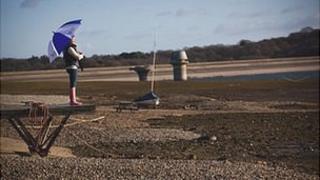 Southern Water has applied for a drought permit to help refill the largest reservoir in the South East.
Bewl Water, in Lamberhurst, is only 41% full and according to the water company, the last 10 months have been the driest since 1888.
If granted by the Environment Agency the permit will allow more water to be taken from the River Medway.
The reservoir, which is on the Kent and Sussex border, supplies the Medway towns, Thanet and the Hastings area.
Meyrick Gough, from Southern Water, said: "We are licensed to take a certain amount of water from the River Medway to put into Bewl.
"If the permit is granted the terms of our licence would temporarily change allowing us to take more water from the river if we need to.
"This will mean water will be conserved in the reservoir and will help secure supplies. This is a precautionary measure which we hope will reduce the chances of us having to restrict customers' water use through the summer."
Bewl Water can hold more than 31 billion litres of water and is also used for watersports.