Elected mayors: Ed Miliband's little local difficulty
10 February 2012

From the section

England

comments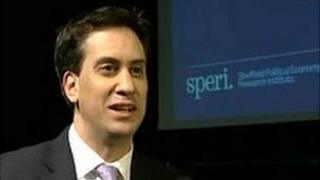 Labour leader Ed Miliband says he thinks directly elected executive mayors are a good idea.
But he's not having much success persuading Labour council leaders in his own back yard of that.
Four Yorkshire cities have been ordered by the government to hold a referendum on whether the current way of running them should be scrapped to make way for executive mayors.
They are among the largest 11 cities in England where ballots will be held on the same day.
All of the Yorkshire cities, Bradford, Leeds, Sheffield and Wakefield, currently have Labour councillors sitting in the leader's office.
All have given a collective thumbs down to the change.
They feel executive mayors, voted into office for an impregnable five year term with powers to enforce policies which bypass the traditional council, are a bad idea.
No home advantage?
All of those Yorkshire Labour leaders have indicated that they will ignore Ed Miliband's view and vote with the 'no' campaigns when the ballots are held in May.
In fact, Ed Miliband's position on executive mayors became even more isolated even closer to home.
In Doncaster, the only place in Yorkshire already run by an executive mayor, a campaign has forced an entirely separate referendum aimed at getting rid of the office.
Doncaster is where Ed Miliband sits as an MP.
The driving force behind the campaign to get rid of the office of executive mayor is the town's Labour Party.
Of course, there is a little local difficulty for the Labour Party in Doncaster which has triggered its ferocious animosity to mayors.
For generations the town at the heart of the South Yorkshire coalfields returned an overwhelmingly Labour controlled council.
But at the last mayoral elections in 2009 it dumped the Labour candidate and voted in Peter Davies, a rank outsider from the little known, right wing party the English Democrats.
The war of words between the mayor, the majority Labour Group and virtually every other councillor from a mainstream group made the town virtually ungovernable in the months after the election.
For the past 18 months it has been overseen by a squad of "advisors" sent by the Communities and Local Government Secretary Eric Pickles.
Confusion or stability?
Ed Miliband brushes off the Doncaster example.
"I disagree with many of Peter Davies' policies and views but it does not mean that an executive mayor cannot bring advantages of efficiency and stability to the town."
He could have a point.
In Leeds and Sheffield, where referendums are taking place, Labour and the Liberal Democrats have been swapping control for a decade or more.
In Bradford the political instability has been even more extreme. All three parties have had a hand on power in that same period.
Some would call that democracy in action.
Others might say it just leads to gross inefficiency and confusion.
That is likely to be at the heart of the argument when it is put to the ballot in May.