Conservative MEP Roger Helmer could withdraw resignation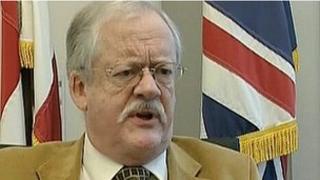 Conservative MEP Roger Helmer has threatened to withdraw his resignation in a dispute over his successor.
The East Midlands MEP was due to quit on 31 December over disagreements with party policies.
But the Conservative party has not confirmed Rupert Matthews, who was next in line and is a friend of Mr Helmer, will be allowed to take the role.
Mr Helmer has now said he is prepared to serve out his term until 2014 if Mr Matthews is not appointed.
Under normal practice, if an MEP leaves his post, he is succeeded by the next candidate from a party list agreed at the previous election.
But the Conservative party has been examining whether Mr Matthews would be a suitable candidate and has called him to appear before a panel.
In December Mr Matthews denied any direct involvement in a book, published by a company he holds shares in, which featured a golliwog on the front cover.
He is also a prolific author, recently concentrating on UFOs and the paranormal.
In a statement, Mr Helmer said: "I have made it clear that I will not sign the formal resignation papers until the position is clarified and Rupert is confirmed.
"I was happy to resign in favour of the Next-in-Line in the normal way, but I am not prepared to stand aside for some A-List Cameron protege from St John's Wood."
Conservative Central Office had earlier said it could not begin the process of selecting another MEP until Mr Helmer officially resigns.