What will 2012 have in store for our politicians?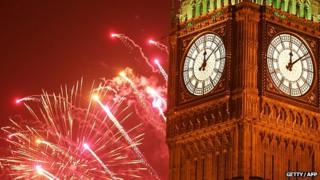 The start of a new year should promise a fresh and promising beginning. But 2012 may suffer from a longer than expected hangover from the old year.
Ask why, and that tired old Clinton White House expression springs to mind: "It's the economy, stupid."
I've struggled to find many politicians with an upbeat optimism about 2012.
Sure, they're looking forward to the London Olympics and the Queen's Diamond Jubilee. Some are even talking up the chances of England's footballers in the European Nations Cup in June.
But all the politics comes back to the state of the economy at home and abroad.
Going for growth
"We've got to see growth back in the economy," said Labour's Jon Ashworth, elected as Leicester South's new MP last May.
"The economy's been flat-lining for the last 12 months.
"In the next year, David Cameron has desperately got to get growth in the economy and I don't think he will."
Speculation will continue into 2012 over the durability of the Conservative-Liberal Democrat coalition.
Another MP, new to this parliament, has no doubt the Cameron-Clegg partnership is secure.
"And I'll tell you why," Anna Soubry, Broxtowe's Tory MP, told me.
"We've come together because our prime object is to sort out the economy. On that both the Tories and the Lib Dems are utterly united."
And with a cheeky dig at her coalition partners, she added: "When you look at their poll ratings, I don't think Liberal Democrats will want to leap into a general election all that soon."
Council spending
In 2012, the financial squeeze will tighten on our local councils. Labour-run Nottingham and Leicester City are hinting at increasing council tax next May.
That's despite the government offering a cash deal to help town halls freeze increases for another year.
But Labour leaders of our larger urban and city councils in the East Midlands fear a political trap... a jar of Eric Pickles jam this year but a further round of tough spending cuts in 2013.
Another significant change for our councils will be the impact of the new Localism Act, especially on housing and planning.
"It's both a liberation and a risk," the Tory leader of Derby City Council, Councillor Philip Hickson told me.
"Clearly, we want to be able to make more decisions locally. That's a really good thing.
"But there is concern about alterations to the planning rules, which some see as a danger to the green belt and giving 'carte blanche' to developers."
Thatcher's legacy
The new year also kick starts the movie awards season.
Meryl Streep's portrayal of Margaret Thatcher in The Iron Lady has already been highly praised.
The movie hits the cinema screens this January. As I've blogged before, the 'Beast of Bolsover' himself gets a small part.
Bolsover's Dennis Skinner was an extra in scenes set in the House of Commons.
"The most interesting thing about the extras was that there were half a dozen Tory whips," said the veteran Labour MP.
"But they had to sit on the same side as me shouting at Thatcher. Imagine that -Tory whips shouting at Thatcher, who would believe it?" he added.
Cinema has a way of weaving some magic.
Our politicians may need some magic dust in 2012.