North East Olympic torchbearing hopefuls receive offers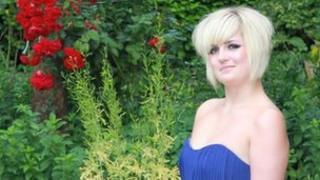 Hundreds of Olympic torchbearer hopefuls in the North East have been given conditional offers to take part in the relay.
The emailed offers tell the nominees they must pass background checks before they are officially confirmed.
Further offers will be made by the end of January 2012 to complete the 8,000 strong London 2012 Torchbearer team.
The Olympic Torch Relay will come through the North East between 14 and 18 June 2012 and again on 20 June.
Sebastian Coe, Chair of Locog, said: "Thank you to everyone in the North East who took the time to nominate a friend, a colleague or a family member through one of the four campaigns.
"Today we are one step closer to giving hundreds of people across the North East their moment to shine during the Olympic Torch Relay next summer.
"The sum of the individual stories of our torchbearers will show the world that the Olympic spirit is alive and well right across the North East."
'Immensely proud'
More than 60,000 nominations were received across the UK through four nomination campaigns.
Those who have not been successful with a nomination are invited to join the journey to the London 2012 Games by becoming a "local leader".
An average of 115 people a day will take centre stage next summer by carrying the Olympic Flame on its 8,000 mile journey around the UK.
It arrives at the Olympic Stadium on 27 July for the lighting of the cauldron at the opening ceremony, signifying the official start of the London 2012 Olympic Games.
Jess Colborn, 18, from Hexham, was nominated through Locog's public nomination campaign.
She suffered a stroke two years ago and has since worked with the Stroke Association. She helps the charity campaign and educate people about stroke prevention and hopes to run the Great North Run next year.
She said: "I am thrilled to have been offered the honour of representing my community as a 2012 Olympic Torchbearer. I feel immensely proud and happy to be taking part in such a momentous event, and it is something I will never forget."
'Completely hyperactive'
Shameem Arnold from Egremont said she had not felt particularly optimistic about receiving an email.
She said: "I was sat eating my soup, and looked at my phone and there it was - it said 'Congratulations Shameem, we think you've got what it takes to be a London 2012 Olympic torch bearer', and I've been completely hyperactive ever since.
"I'm overwhelmed. I'm really proud to be a part of it.
"My husband nominated me, I only found out when the email came through. I run a dance fitness company and our aim is to make people fitter and happier. So we've always had that as our goal.
"I've suffered with ME in the past, and to go on to do the classes - my husband is really proud of me."
Neonatal nurse Jo Chubb, who works at Middlesbrough's James Cook Hospital, said she was "blown away" to be chosen as a torchbearer.
The 38-year-old spent years caring for her seriously ill daughter Emily, 10, who was born with heart problems and had to be fed through a tube in her stomach.
Emily has now been well for six months. Ms Chubb said: "I was blown away when I got the email to say I'd got a conditional offer.
"It is so lovely that the friend who nominated me thinks I'm so worthwhile."
'Top dollar'
Mick Riding, 54, from Newcastle, was nominated by his "long-suffering wife" Annette, with who he has two children.
He established the North Shields hockey club, initially for a local school, and now spends hours of his own time mentoring the boys and developing the club, that has several teams.
He said: "It is absolutely top dollar - I'm not quite sure what phrase to use.
"The whole thing will be fantastic - this is going to be bigger than the 1966 World Cup and it is an opportunity to redress some people's perception of us and our country.
"There is something for everybody in the Games.
"It was reward in itself just to have been nominated, but to learn that my story had been selected is incredible. I hope my friends, family and the sporting community of the North East, will feel the same pride as I do."