Heated 'live' rail plan for south east train routes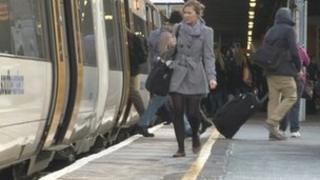 The government will spend £16m on heating conductor rails on south east train lines to help services run more smoothly this winter.
During severe weather last year, ice on the live rail, which supplies electric power from the track to the train, contributed to train delays.
The plan covers tracks across Kent, Sussex and Surrey.
The plan is part of a £38m winter train programme, announced by Transport Secretary Justine Greening.
On a visit to the Tonbridge rail depot, in Kent, Ms Greening said: "I'm also asking the industry to raise its game and communicate better with passengers in severe weather."
Charles Horton, managing director of Southeastern, which serves Kent and parts of Sussex, said the company had improved its online services.
"We're also working very hard to improve the facilities at stations so that information can be got to customers as quickly and reliably as possible," he said.
Ms Greening said both airports and the railway were much better prepared than in the past and Britain had over 2.7 million tonnes of salt stocks.
She has asked the UK Roads Board to explore further measures to make better use of salt, equipment and infrastructure to keep local highways open and safe during severe winter weather.
Ms Greening added she would look at the case for increased investment in the Met Office's super-computing capacity, which could provide improved information on the likelihood and impact of severe weather as well as support for better long-term planning.