BBC Sussex and Surrey unsung heroes: Nominations wanted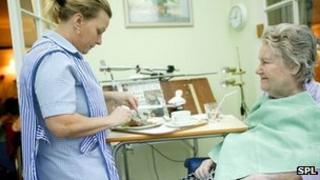 In December BBC Sussex and BBC Surrey will host its first awards ceremony to salute the unsung heroes working in the local community.
If you know of someone who you think deserves recognition for their hard work in Sussex, Surrey and North East Hampshire read on to find out how to enter them into to the awards.
The deadline for suggestions is midnight on 25 November.
Individuals must be based in or resident within the BBC Sussex and BBC Surrey area.
The winners will be presented with their awards at a ceremony on 15 December.
The details of the award categories and the terms and conditions for nominations are as follows:
Award categories
Young person of courage or achievement
Awarded to anyone aged 18 or under, who has demonstrated courage or maturity beyond their years.
Bravery
Candidate is someone who has demonstrated exceptional courage in the face of adversity.
999
Presented to a member of the emergency services for commitment to their profession.
Sport
Awarded to someone who has contributed to local sporting life, either playing a sport or acting as a referee or official.
Good neighbour
Awarded to the person who goes out of their way to help their neighbours.
Fundraiser/volunteer
Someone who has given up their time to raise funds for a charity or good cause.
Local entrepreneur
Recognising an individual or company's contribution to supporting the local business community.
How to nominate
To put someone forward for a Local Hero Award, please complete the following Award Category and details:
Reason (Please tell us why you think this person deserves an award - max 250 words):
Nominee's name, your name, your email address, your phone number and address.
Then email your nominations to sussexawards@bbc.co.uk or surreyawards@bbc.co.uk