European membership divides Conservatives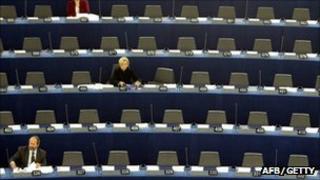 It's always been a divisive issue for the Conservatives but until now David Cameron has been able to keep a lid on any simmering discontent over Europe.
But now the thorny issue of European membership, which has been talked about by backbenchers for months, has reared its head again.
Sixty Tory MPs have signed a motion calling for a referendum to be held on UK membership of the EU.
They include the MP for Crawley, Henry Smith, along with three Kent MPs: the MP for Chatham and Aylesford, Tracey Crouch; Sittingbourne and Sheppey's MP Gordon Henderson; and the member for Rochester and Strood Mark Reckless.
Talking tough
For once the three main parties are united on the issue - making it clear they expect their MPs to vote against calls for a referendum.
Downing Street says it expects Conservative MPs to vote against it.
David Cameron is talking tough, even saying he would be prepared to sack ministerial aides if they back calls for a referendum on Britain's ties with the European Union.
The Liberal Democrats are also expected to order their MPs to vote against, and Labour leader Ed Miliband said he too would order his MPs to oppose the idea, saying a referendum would be an "irresponsible and terrible distraction".
But the MP for Rochester and Strood Mark Reckless says he will vote against the government and expects others to join him.
He denies it's a rebellion though and says: "There's been a public petition with over 100,000 signatures calling for an in-out referendum on the EU."
He says that hasn't happened since the referendum of 1975, and feels it's time to let the people decide.
Mr Reckless says: "I believe we should be an independent country trading with Europe but governing ourselves, and I think that's where the vast majority of our constituents now stand.
"It's time the political parties and politicians at Westminster gave people a vote and let the people decide."
He argues that when the UK joined the EU it was presented as something that would see Britain lose some control politically but gain economically.
He says now it seems there is an economic cost instead.
Three line whip
His colleague Tracey Crouch will also defy the government.
She says she will vote for a referendum because: "The last referendum was before I was born and a whole generation of people haven't had their say."
But she makes it clear she's not a Euro-sceptic and if the issue was put to the public she wouldn't vote to leave Europe.
The debate on Europe has been brought forward to next Monday instead of Thursday to allow David Cameron and the Foreign Secretary William Hague to be there.
They will hope their presence will enable them to look the backbenchers in the eye and tell them: "Don't do this."
If that's not enough, it's expected there will be a three line whip, which would require any in-government members to follow the party line and vote against the motion or to resign their posts.
Backbenchers who defy the three line whip could damage any chances of promotion in the future.
'Ticking bomb'
But some will be willing to risk that - the Conservative MP Stewart Jackson has confirmed he intends to vote for the motion even if it costs him his job as a parliamentary private secretary.
He says: "Some things are more important than party preferment."
The government wouldn't be bound by the result of the vote, but as William Hague once warned David Cameron, Europe is "a ticking bomb" which could blow up the Conservative party.
David Cameron will want to quash any rebellion to ensure that doesn't happen.