Police helicopter share in Suffolk, Norfolk and Cambridgeshire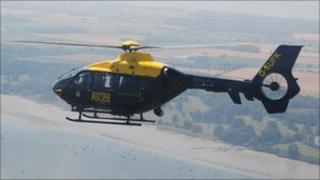 Police forces in three counties are to be served by a helicopter based in north Suffolk in a bid to cut costs by sharing resources.
The helicopter serving forces in Suffolk, Cambridgeshire and Norfolk could soon be based at the former US air base at Honington, Suffolk.
Norfolk lost its dedicated helicopter in March and Cambridgeshire could follow suit by April next year.
A new National Police Air Service aims to cut £15m from police budgets.
Sgt Julian Bosley said the shared helicopter could be based at Honington, rather than the Wattisham base which currently serves Norfolk and Suffolk.
He said: "It's pretty close to where the three counties join together so we'll be in a better position to rise to that challenge.
"We will be busier but there is a plan in place to deal with any excessive demands.
"That is to deploy aircraft from elsewhere, so if we find ourselves very heavily occupied there should be aircraft available from neighbouring bases to come and backfill.
"To an extent we already do that at the moment."