Tamar Bridge resurfacing work finishing 10 days early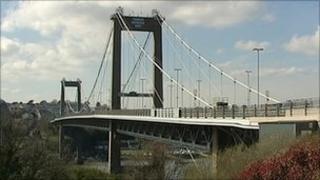 Resurfacing work on the Tamar Bridge, which has delayed thousands of motorists travelling between Devon and Cornwall, is to finish early.
The work on the route, between Plymouth and Saltash, has been carried out seven days a week since mid-September. It had been expected to take five weeks.
Weather-permitting, it should be finished by Friday evening's rush hour, about 10 days early, engineers said.
About 20,000 people on average use the bridge every day.
Drivers had experienced delays of up to 45 minutes when the work first began.