Dorset MP's Portland coastguard appeal rejected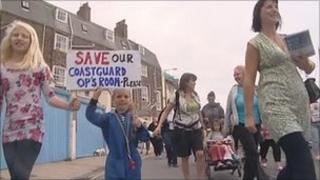 A plea to maintain coastguard operations in Dorset has been rejected during a Westminster Hall debate.
Proposals would see rescue centres in Portland and Lee-on-the-Solent closed with a coastguard centre opened in Southampton or Portsmouth.
Dorset South Conservative MP Richard Drax said he backed a 22,000-signature petition which called for a new centre to be opened in Weymouth.
Transport Minister Mike Penning said the consultation would not be reopened.
Mr Drax said: "While I do understand that it might create more work, I cannot understand the reasons for refusing to reopen the consultation.
24-hour centres
"Whatever stage we are at, if a truly worthwhile idea comes along, it should be looked at."
Mr Penning told MPs during the debate: "I am afraid the decision is made, it will be in the Solent area.
"While I respect enormously the work that was done by the community... I am not willing, sadly, to reopen the consultation."
Transport Secretary Philip Hammond initially announced that the number of centres would be reduced from 18 to eight, with only three remaining open 24 hours a day.
But in July, those plans were scaled back with 10 centres now set to stay 24-hour operational, as would a smaller station in London.
However, it still means the centres in Clyde, Forth, Portland, Liverpool, Yarmouth, Brixham, Thames and Swansea, are due to close.