Boris Johnson and the north-south police cuts divide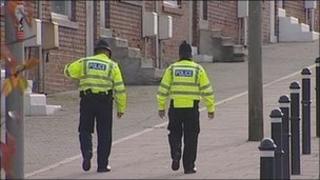 My one souvenir from this week's Conservative conference was a bottle of Boris Johnson water.
It's just part of a range Boris merchandise designed to help his re-election campaign.
But one message on the water is particularly eye-catching.
It talks about the mayor putting more officers on the capital's streets.
Police jobs
And indeed Boris Johnson is promising to protect police numbers, and divert 1,000 extra officers onto the beat by 2016.
Yet this comes at the same time as most forces in England are losing staff.
The Politics Show has obtained the most up-to-date figures on the projected number of officers that will be lost across the North East and Cumbria.
Durham Constabulary will lose 192 officers and 302 support staff by 2015. There'll also be nine fewer community support officers (PCSOs).
Northumbria Police is shedding 627 officers and 929 staff over the same period. They'll also lose 190 PCSOs.
Cleveland will see officer numbers fall by 224, while there'll be 458 fewer staff, and 10 fewer PCSOs.
Cumbria will lose 88 officers as well as 226 support staff and six PCSOs.
And the North Yorkshire force expects to have 150 fewer officers, and 202 fewer staff. Fifteen PCSOs will also be lost.
All in all, that means 1,281 fewer officers in the region by 2015, and 2,117 fewer support staff. Hardly surprising given that the force's budgets are falling by £161m.
London protected
So why are all those forces having to cut back so severely while London protects its officer numbers?
The answer is that Boris Johnson has far more flexibility.
As a mayor in charge of various budgets, he can divert money towards the police.
He has made it clear that he doesn't want to manage with fewer officers on the beat.
That's not a luxury available to police authorities who can only access one budget.
So the question is what will the impact be on crime levels?
The government believes our forces can manage with less money and fewer officers by diverting more of them from the back offices and onto the front line.
Maintaining standards
The Stockton South Conservative MP James Wharton said: "A lot of police officers I'm afraid are currently doing desk jobs, back office jobs that could be done by civilian staff.
"Nobody wants to see numbers of police officers go down but as long as we're able to protect front line services, and there's no reason why that can't be done in the current climate, then I think people will understand."
And one police authority chair seems to agree. Peter Thompson says Durham Constabulary has managed to maintain its standards.
He said: "Not one observation, reservation or complaint has been received about any reduction in the service that we provide. In fact our detections are higher and crime is down."
But not everyone agrees that will last.
Andy Metcalfe, from Durham Police Federation, said: "At the moment we are performing well with the staff that we have.
"But they are working just about to their limits now. You can only cut so much, there are more proposed cuts, and I have grave concerns about being able to sustain the performance that we currently are delivering to the people of County Durham and Darlington."
The Politics Show will be discussing the impact of police cuts at 12.10pm on 9 October on BBC One.