Glowstick plan for stranded Southeastern trains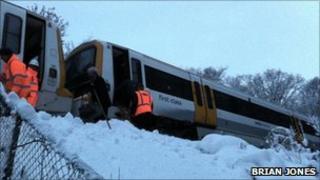 Stranded train passengers are to be provided with glowsticks and foil blankets by Southeastern as part of its severe weather contingency plans.
Southeastern was heavily criticised after passengers suffered delays, cancellations and amended timetables during snow in December
Hundreds of passengers were stuck for several hours overnight on trains because of icy rails at one point.
One rail group said there was an "element of despair" about the plans.
The chairman of the Sevenoaks Rail Travellers' Association, Roger Johnson, said: "I see no evidence that all the underlying problems that bedevilled us last winter won't happen again.
"I believe Southeastern has done a great deal, much of it behind the scenes, to improve performance of its trains in the winter.
"Unfortunately, that will mean nothing if you go on its website at 6.30am when there is 3in of snow outside and be told trains are running on time when in all probability they are not."
'Anti-icing trains'
Bosses from Southeastern and Network Rail outlined their contingency measures for railways in south-east London, East Sussex and Kent to MPs in Westminster.
They plan to provide glowsticks and foil blankets to passengers if a train breaks down and loses its lighting.
They said they would increase the number of anti-icing trains from six to eight, fit 20 passenger trains with anti-icing tanks and add 40,000m of conductor rail heating
Southeastern engineers will also use three new 4x4 vehicles to help them to respond to incidents quickly.
There will also be 220 hand-pushed ploughs, 16 motorised snow clearance vehicles and more grit supplies.
'£40m of improvements'
Southeastern managing director Charles Horton said: "Heavy snow and ice represents a significant challenge for running trains on the third-rail [electric] network.
"Whilst there is always likely to be disruption during severe winter weather, we believe that the work we have been doing jointly with Network Rail should enable us to keep more services operating, help us recover more quickly from disruption and support our efforts to improve the quality of information that we provide to passengers."
Mike Smith, of Network Rail, said: "We continue to work hard to deliver over £40m of improvements in time for next winter which we hope will add much-needed resilience to the network and allow passengers to make their journeys over the winter months with minimal disruption."