BAE Systems job cuts: Consultation period due to start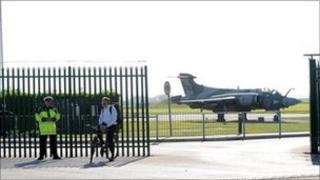 Consultation is due to start over defence giant BAE Systems' plans to shed almost 3,000 jobs.
The Brough plant in East Yorkshire will lose 900 jobs from its 1,300-strong workforce.
In Lancashire, 565 jobs will be shed from 3,970 at Samlesbury, and 843 posts will go from 6,537 at Warton.
BAE said it needed to stay competitive. It is due to start a 90-day consultation with unions and workers at some sites, ending at Christmas.
While Lancashire and East Yorkshire are particularly badly hit in terms of numbers of job losses, BAE is also shedding posts at sites across the UK.
The consultation at smaller sites - including those at Filton in Bristol, Farnborough in Hampshire and Yeovil in Somerset, among others - is due to last for 30 days, BAE said.
Most of the cuts are due to be made in the company's military aircraft division. It has been affected by a slowdown in orders for the Eurofighter Typhoon fighter aircraft.
Unite, the largest union recognised by BAE, said the cuts would be devastating for workers and their families.
It said it would do everything it could to mitigate their impact.