Summer riots cast shadow over Conservative conference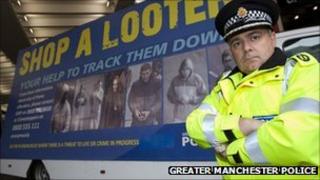 Conservatives heading to Manchester this weekend will be assembling within yards of some of the scenes of the worst disturbances in England for many years.
The mayhem here and in other towns and cities will continue to cast its shadow across the conference.
David Cameron warned the rioters and looters at the time that they could expect to face "the full force of the Law". Some of his MPs went even further. The Conservative MP for Stourbridge, Margot James, told the BBC:
"The courts should err on the side of severity. It's not an over-reaction. I have never been as shocked or ashamed by anything I have ever seen in this country."
The signs are that the debate has some way to go yet over the exemplary custodial sentences which have been handed down over the past few weeks, especially with prison numbers at an all-time high.
After visiting the cells shortly after the riots, the West Midlands chief constable Chris Sims said that as well as the tragic victims of crime, "there are some tragic offenders there too".
To experience the reality behind the sound bites, Margot James MP agreed to visit Birmingham Magistrates' Court where cases arising from the riots are still being dealt with. You can see what she made of it in this week's Politics Show on BBC One.
Secure ground?
And what do the riots tell us about David Cameron's views on "Broken Britain"?
I've been talking to the Conservative MP for Hereford and South Herefordshire, Jesse Norman, whose book The Big Society is a detailed definition of the prime minister's big idea.
By one of those strange ironies that occur in politics, the sort of mayhem which most governments would dread witnessing on their watch may have taken Mr Cameron onto surprisingly secure political ground.
In an extended interview recorded in Hereford, I challenged Mr Norman to describe how an extra chapter in his book might take account of the English riots.
He told me they proved the prime minister had been absolutely right in his diagnosis of the malaise affecting Britain.
With me at the Conservative Party conference will be guests including the Environment Secretary and Meriden MP, Caroline Spelman. I hope you will join me for the Politics Show from 12:00 BST on BBC One on Sunday, 2 October 2011.