Rory Weal, 16, gets Labour delegates' standing ovation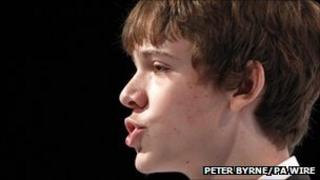 I've already heard this afternoon described as a "William Hague moment" - when a teenage William Hague addressed the Conservative Party conference in Blackpool in front of Margaret Thatcher in 1977.
This time the teenager was a 16-year-old from Maidstone called Rory Weal.
He confidently took to the podium to address delegates. In a passionate speech he told them that young people are getting "a pretty raw deal" and he said he's been directly affected by the scrapping of the Education Maintenance Allowance.
He's taken a week off from school to be at the conference, but hadn't expected to be called to give a speech.
He simply put his hand up and, not fazed by the 2,000-strong audience, achieved something which will make many shadow cabinet members envious. He received a standing ovation and a pat on the back (literally) from the party's leader Ed Miliband.
Youth appeal
Rory, who only joined the party after the last general election, is exactly the kind of young person Labour wants to attract.
Another two activists from the South East at this week's conference are Matthew Butt, a youth worker from Chatham, and Helena Dollimore from Heathfield.
Matthew says: "Looking at how central government's policies are affecting local authorities - it's having a devastating impact on young people."
Despite the fact Labour no longer has an MP in the South East, he believes the party is still relevant in the region.
He adds: "If we can win back the South East, we can win back government."
Helena welcomes the announcement that Labour would, if in government, cap student tuition fees at £6,000 - as opposed to the £9,000 limit imposed by the coalition.
Labour have had to work hard to attract new members. But despite the terrible losses they suffered at the last election there is evidence that people are still joining the party - membership has increased by 8000 members in the South East.
All three young delegates say Labour is the only party listening to young people like them. The party certainly sat up and listened to a young activist from Maidstone today.
If Labour is to reach out in the South East. it'll need to attract more young people, like Rory, to show the party has changed and is listening.
Labour has had to work hard to attract new younger members. But despite the terrible losses they suffered at the last election, there is evidence people are still joining the party - with membership increasing by 8,000 in the South East.