Express & Star print works to leave Black Country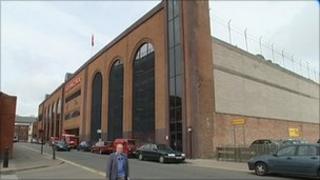 A Wolverhampton newspaper will no longer be printed in the city where it has been based for more than 120 years.
The Express & Star has confirmed it will move its printing operations to Ketley, Telford, where sister title the Shropshire Star is based.
The Midland News Association, which owns the title, has confirmed there will be redundancies and it is believed about 14 jobs will go.
The editorial and advertising departments will remain in the city.
'Economic climate'
The Express & Star is the UK's biggest-selling regional daily.
MNA managing director Alan Harris said: "This has been a very difficult decision to make but the continued challenging economic climate has made it crucial for us to take measures to secure the long-term success of the business."
Mr Harris added that the move to printing at Telford would mean "greatly improved efficiency".
According to the newspaper's website The Express & Star was founded in Wolverhampton in the 1880s by the Scottish-American millionaire Andrew Carnegie and a group of radical Liberal Party members, including Thomas Graham.
Carnegie's aim was to campaign, through a string of regional daily newspapers, for the creation of a British Republic.
By 1902 Carnegie had abandoned his mission and the newspaper has been owned by the Graham family ever since.
Since 2008 the Express & Star has seen a steady decline in circulation figures except for a brief rise in early 2010.
In 2008 figures from the Audit Bureau of Circulation, the industry body for media management, put the circulation average at 128, 836.
Between January and July 2011 the figure had fallen to 113,174.