Tamworth man in charity marathon on cruise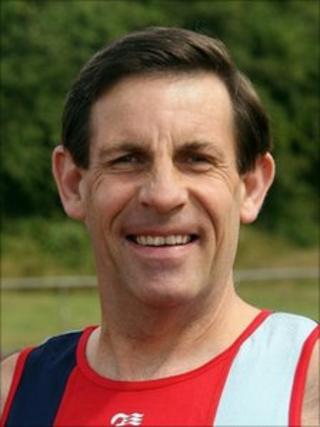 A Staffordshire man is running a "marathon" on a cruise ship in memory of a soldier who died in an attack outside a nightclub.
Steve Eaton, 57, of Tamworth, was doing the challenge after Staff Sergeant Christopher Chacksfield died after an incident in Newcastle-upon-Tyne.
A man was jailed following the attack on the 31-year-old father in June 2010.
Mr Eaton was raising money for Help for Heroes on the Grand Princess Liner, which is visiting the Mediterranean.
He was aiming to complete the 70 laps of the promenade deck in about 5 hours on Thursday, taking into account the challenges of running at sea.
'Close friends'
Mr Eaton has said that Sgt Chacksfield had always wanted to raise funds for the forces charity, so he decided to take on this "strange challenge" to achieve that goal.
He added: "I am close friends with his parents, Robin and Heather, and I wanted to do something to help ease their grief."
Mr Chacksfield, who had completed tours in Iraq, Afghanistan, Kosovo and Bosnia, was waiting for a taxi outside the nightclub with his wife, Adele, a British Army nurse, when he was attacked.
He died as a result of his injuries, and leaves behind his wife and young daughter.
In August 2010 Michael Ridley, 22, of Sceptre Place, Newcastle, was jailed for five years at Newcastle Crown Court for manslaughter and unlawful wounding.
Paul Ludlow, Princes Cruises' UK director, has said: "When Mr Eaton first asked us if he could run a marathon on board Grand Princess we of course said yes.
"Help for Heroes is a fantastic cause and we hope that Mr Eaton's efforts will raise lots of money for this worthwhile charity."