Bombardier: Clegg gives fresh assurances on train maker's future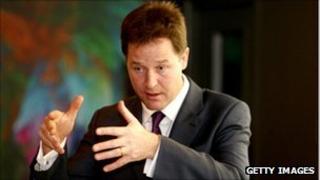 Nick Clegg tells me he's frustrated, really frustrated.
Normally when a grown man volunteers such information to me, I head for the hills. But the Liberal Democrat leader wanted to share with me his frustration over the controversial Thameslink rail contract.
It was awarded to Siemens of Germany - and not to Derby-based Bombardier, Britain's last remaining train maker. It was a multi-million pound deal to built new trains for the Bedford to Brighton rail service.
Bombardier had high hopes of winning that contract; its failure has already resulted in 2,000 job losses, half the Derby workforce.
"The Thameslink contract was designed by the last Labour government, and our hands and feet were tied," the Lib Dem leader told me.
"I can totally understand the anguish of the people of Derby and all that it means for Bombardier."
There's been pressure on ministers to reopen the Thameslink contract. The Deputy Prime Minister was clear: that issue is closed.
So expect to hear that much loved phrase of ministers: "the level playing field".
"I've been talking with the Business Secretary Vince Cable and Transport Secretary Philip Hammond to ensure a level playing field for companies like Bombardier in future.
"They've made great investments in the UK and we'll be working closely with them to protect their innovation and design expertise."
'Tragic for Derby'
Nick Clegg was talking to me in Birmingham, where his party has held its annual conference.
There are hints that the coalition government may bring forward spending on big infrastructure projects: roads, railways, bridges.
"Do remember there are going to be lots of other rail contracts and I very much hope Bombardier will bid for them," he added.
"We are going to do everything we can to support the economy of Derby. It would be tragic for Derby and the outlying areas if Bombardier pulled out.
"As a government, we are spending £8bn a year on transport investment and a lot of that on rail."
He also told me the Business Secretary is talking to Bombardier "right now".
"I know the issue over Thameslink has been tough and controversial, but all is not lost."
After months of pretty depressing news for Bombardier and its workforce, there may be a chink of light emerging for them from this conference.