Amazon jungle rescue starts for UK pair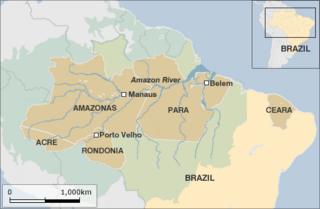 Brazilian rescuers are searching for a British couple whose vehicle crashed into a ravine in the Amazon jungle.
The couple, thought to be from London, alerted relatives in England by mobile phone after the crash about 200 miles south west of Manaus in Brazil.
The pair, in their 60s, have been travelling around South America in a motorhome for the past four years.
UK relatives phoned UK coastguards who alerted the Brazilian rescue authorities.
Coastguards in Falmouth, Cornwall, who co-ordinated the rescue mission, have spoken to the couple and told them rescuers are on their way.
They said the couple were shaken but not injured.
The pair told coastguards that a track, road or bridge collapsed underneath their vehicle, forcing them into the ravine.
The British Consulate in Manaus has said it will provide any assistance necessary to the Brazilian authorities.
The woman had called her brother-in-law in Eastbourne, Sussex, and passed on exact GPS co-ordinates of their location.
He then contacted Dover Coastguard who contacted Falmouth Coastguard, which is the international liaison station.
Fred Caygill, from the Maritime and Coastguard Agency (MCA), said: "It's not the first time we've assisted people across the world.
"This is a bit unusual for us as it's not of a maritime nature, but there are no boundaries in search and rescue."