Tamar Bridge resurfacing work to take up to five weeks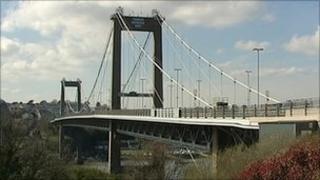 Drivers are being warned to expect delays on a main route between Devon and Cornwall because of resurfacing work on the Tamar Bridge.
Most of the work, starting on Monday, will be carried out between 07:00 and 23:00, bridge bosses said.
It will be carried out seven days a week and is expected to take five weeks to complete, they added.
Some overnight work will also be required but this will be kept to a minimum where possible, they said.