Assaults on paramedics in the South increase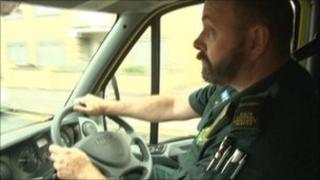 The number of attacks on ambulance crews in the South has increased by 22%.
Figures obtained by the BBC show that in the year 2010-11 there were 73 assaults in Berkshire, Buckinghamshire, Hampshire and Oxfordshire.
Mark Ainsworth from South Central Ambulance Service (SCAS) said it was very distressing for paramedics.
"Staff are trying to help people and they are punched, kicked, spat at and verbally abused," he said.
In one case a paramedic on an emergency motorcycle was shot at with a BB gun.
The concern about violence in some areas is so bad that addresses have been "red flagged" and crews may need to wait for the police before they can attend the scene.
Paramedic Jerry Patton has spent nine years working for SCAS.
Three years ago he had a brick thrown at him by the mother of an overdose victim he was trying to treat near Reading.
He said: "It is that totally unprovoked, unexpected outburst which throws you.
"It's not few and far between, it does happen quite regularly and although our figures might not seem that high there are many instances that go completely unreported."
SCAS will always attempt to pursue a case through to a conviction but action against members of the public is relatively rare.
Only 14 of the 73 people reported in 2010-11 received a penalty, 13 of those were in Hampshire and one in Berkshire.