Red Arrows fly back to RAF Scampton base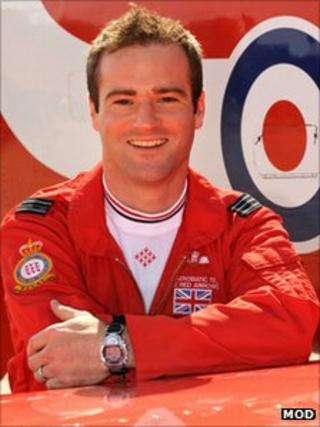 The Red Arrows have returned to their base a week after they were grounded when a jet crashed, killing the pilot.
Flt Lt Jon Egging, 33, from Rutland, died when his plane came down near Bournemouth Airport, last Saturday, after taking part in an air festival.
The jets took off from Bournemouth at about midday and landed at their base, RAF Scampton in Lincolnshire, about an hour later.
Training is due to resume on Tuesday with eight planes instead of nine.
'Best of British'
But the RAF could not say when the Red Arrows would next appear at a public display.
Sqn Ldr Ben Murphy paid tribute to Flt Lt Egging, known as Eggman, after their return.
He said: "Eggman as a Red Arrows pilot encapsulated everything that is the best of British.
"He was an exceptional pilot, a dedicated RAF officer who saw service for his country, but more than that he was a caring and compassionate friend and we are going to miss him hugely."
Sqn Ldr Murphy added that as a tribute to their comrade, he hoped the team would display again "as soon as possible".
Crash investigation
The fleet of Hawk T1s had been due to fly to Scampton on Friday but bad weather delayed their take-off.
The jets were cleared to fly again on Thursday following preliminary investigations into the cause of the crash which showed there were no wider safety concerns about the aircraft.
About 120 Hawk T1s used for RAF training, which were also grounded, were also given clearance to resume exercises.
The wreckage of the crashed plane has been taken to the Boscombe Down aircraft testing site near Amesbury, Wiltshire, and an investigation has begun. It is expected to take several months.
Eyewitnesses described seeing Flt Lt Egging's plane, Red 4, hit the ground in a field by the River Stour, near the village of Throop, following a display over Bournemouth seafront.
The pilot's wife, Dr Emma Egging, had watched her husband perform, from the beach, minutes earlier.
Hundreds of tributes have been left at RAF Scampton and outside Bournemouth Town Hall.
Last week a defence source had said it was "extremely unlikely" the Red Arrows would do any more displays this year but the RAF said it could not confirm any timings.
The RAF added the team would use eight planes instead of nine when it began training again on Tuesday.
Before Flt Lt Egging's death, the display team regularly trained with eight planes in case a pilot was unable to fly.
An RAF spokesman said: "Display flying by the Red Arrows team, in an eight-ship formation, will recommence subject to a successful period of consolidation and approval to display."
A private funeral service is expected to be held for Flt Lt Egging at St Mary the Virgin Church in the village of Morcott, Rutland, where his widow lives, the churchwarden said.
A date has yet to be arranged.