Tombstoning Dover safety DVD hailed a success by police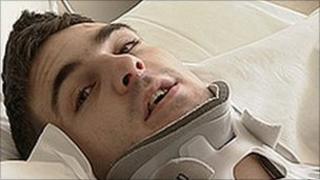 A film featuring a former soldier who broke his neck after jumping from a pier has been hailed a success in deterring people from tombstoning.
The Port of Dover Police said there had been only one recorded incident of tombstoning since the start of the school holidays.
The practice sees people climbing cliffs and walls around the coast, before jumping into the water below.
The film, which featured 23-year-old Sonny Wells, was shown in schools.
Mr Wells, of Waterlooville, Hampshire, was paralysed after jumping 30ft (9m) from a pier into 3ft (90cm) of water.
His injuries forced him to give up the sports he loved and he must spend the rest of his life in a wheelchair.
'Dangerous pursuit'
The film was made in Dover and was launched in Kent by Port of Dover Police.
PC Martin Dadd said in previous years there could be up to 12 incidents a day.
He said he was delighted the film had reduced the number of people taking part in the "dangerous pursuit".
Copies of the DVD were shown in schools in Dover and are now being distributed across the country.
Maritime and Coastguard Agency figures show 189 tombstoning-related incidents were recorded between 2004 and 2009.
In the past two years, six people have died and 22 have suffered serious injuries, the majority of which were spinal.