Tadpoles from Bedfordshire used for Norfolk toad colony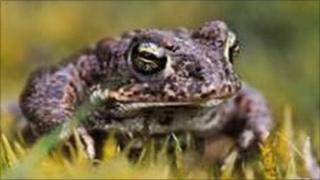 A new colony of rare natterjack toads is to be set up in Norfolk using more than 800 tadpoles from an RSPB nature reserve in Bedfordshire.
Tadpoles from the Lodge near Sandy have been transferred to Norfolk Wildlife Trust's reserve at Grimston Warren.
John Buckley, from the Amphibian and Reptile Conservation Trust, said it was hoped the tadpoles would become toadlets "within the next few weeks".
Natterjacks require specialist habitats to survive.
They are smaller than common toads, are nocturnal and are usually heard more than they are seen as their mating calls can be heard from more than half a mile away.
The toads can be identified by the distinctive yellow stripe which runs along their back.
During the day, they rest in their burrows in the ground or under objects on the surface, emerging at darkness to hunt beetles and other insects.
Natterjacks need bare ground or very short vegetation for hunting.
Only sand dune systems, heathland, and the upper parts of saltmarshes now provide just the right conditions for them to breed in shallow, warm pools.