Richard Plummer out of coma in hospital in Maidstone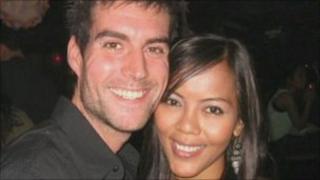 The family of a man who was flown home from Bali in a coma after a motorbike accident say he has made good progress at a hospital in Kent.
Richard Plummer, 32, arrived in the UK in an air ambulance on 31 July after his parents borrowed £80,000 for the mercy mission from Indonesia.
He was taken to Maidstone Hospital, where he regained consciousness.
His father, Eric, 75, said he was sitting in a chair for the first time when they arrived to visit on Thursday.
"We went into the ward and the nurse said, 'I've got a surprise for you'," he said.
Mr Plummer and his wife June spent their £20,000 life savings to pay for care for their son, who had not renewed his travel insurance.
Expecting child
A private benefactor, who wished to remain anonymous, agreed to lend the family £80,000 to cover the cost of the air ambulance and fund-raising events are being held to help pay it back.
Richard Plummer had been living in Bali since 2009. His girlfriend is expecting a child.
But his family feared he might die if he could not be flown home to a hospital with suitable facilities.
Family members have been at his bedside every day since he arrived in Maidstone.
"It has been absolutely amazing," said Eric Plummer.
"It was slow process but now he has his eyes fully open and he is looking around.
"He communicates by poking his tongue out when asked questions.
"We are sure that he has recognised both of us and other members of the family.
"He squeezes our hands and I said to him a couple of days ago, 'Can you give Mum a big smile just to make her day,' and he did smile."