Mascot Grand National moves to Kempton Park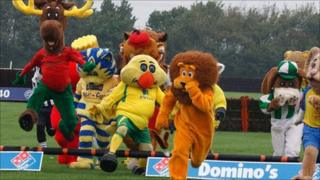 The Mascot Grand National is moving to Kempton Park racecourse.
The race of up to 100 mascots, which was first contested in 1999, will be held at the venue in Sunbury, Surrey, for the first time next May.
The move from Huntingdon racecourse in Cambridgeshire should encourage more entrants from the South East, said the organisers.
Amy Starkey from Kempton Park said: "It will be bigger and more exciting than ever before."
Ms Starkey, the former managing director of Huntingdon racecourse, added: "The mascots are really enthusiastic about it too because it's an occasion when they can all gather, raise money for charity and meet their fans.
"The football mascots are especially passionate about it."
The race has had a chequered past, with claims of "dead ringers" in previous events.
In 2001 there was controversy as Freddie the Fox was first past the winning post. It later turned out he was Olympic 400m hurdler Matthew Douglas - a semi-finalist at the 2000 Games in Sydney.
After complaints about the result, Dazzler the Lion from Rushden & Diamonds Football club was proclaimed the victor.
Chaddy the Owl from Oldham Athletic Football Club won in both 2002 and 2003.
Loose mouse foot
Accusations that he was a ringer proved unfounded in 2002.
The following year a female streaker on the course was said to have distracted some of the runners.
Also in 2003, the odds on Sedge the Field Mouse were slashed from 66-1 to 2-1 when it was revealed Commonwealth Games sprinter Allyn Condon was inside the rodent's constume.
Condon's chances were dashed when one of his mouse feet came loose.
The last race to be run, in 2010, raised £2,000 for the Special Olympics.