Can enterprise zones do the job this time around?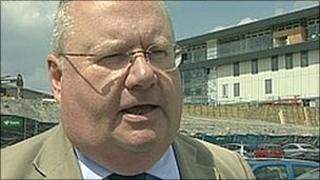 History has repeated itself in the economically blighted areas of South Yorkshire still struggling 30 years after the loss of tens of thousands of coal and steel jobs.
This month, Eric Pickles, the Communities Secretary, was in Sheffield announcing the establishment of an enterprise zone.
The aim of the zone is to speed up the regeneration of areas on the edge of the city where steel mills once employed thousands.
Sixteen years ago I listened to Michael Heseltine, the then President of the Board of Trade, making virtually the same announcement for the development of land just a few miles away in the abandoned coalfields bordering Barnsley, Rotherham and Doncaster.
At the time we were told that what became known as the Dearne Valley Enterprise Zone would attract new businesses and create thousands of skilled manufacturing jobs.
This came with promises of tax breaks; exemption from local authority rates and highly subsidised staff training.
It did not work out that way.
Service economy
When the zone's 10 year lifespan ended in 2005 research carried out for the Regional Development Agency, Yorkshire Forward, identified the creation of 17,700 new jobs.
But most of these jobs were low skilled and in the service sector.
Today a new road running right through the area leads to modern industrial units. Many are home to giant call centres.
Hundreds more are employed at an out-of-town retail park with a hypermarket and its own drive-in McDonalds.
The dereliction of ruined pit top buildings - rail terminals and spoil heaps - is long gone but even now there is a large amount of empty space waiting to be developed.
Levels of employment, skills and aspirations in nearby Dearne Valley communities remain amongst the lowest in the country.
'New' jobs?
It was not as if Dearne Valley was one of the pioneering, early enterprise zones.
It was one of the last of 38 set up across the country between 1981 and 1996 by the Conservative governments of Margaret Thatcher and John Major.
All reported similar mixed results when their 10 year time limits ended.
The employment created tended to be far less skilled than had been anticipated and many were not "new" jobs as they were with existing companies who had moved from just up the road to take advantage of the lower costs in enterprise zones.
It's a worry already being expressed by Sheffield Central MP, Clive Betts.
He believes there is a danger that recent economic progress in neighbouring areas could be stalled if firms decide to switch to the enterprise zone.
Kick start
This time around the new South Yorkshire zone has been given a kick start.
It will encompass the existing Advanced Manufacturing Park which has already been operating for the past five years on what used to be part of the giant Orgreave coking plant.
Earlier this year Rolls Royce announced its intention to create hundreds of jobs on the site by setting up two new engineering plants.
One of the factories will construct vast internal components for the next generation of Britain's nuclear power stations.
The other will produce thousands of hi-tech turbine blades for jet aircraft engines around the world.
Each will employ around 180 workers.
Rolls Royce said at the time that government incentives would be worth at least £45m.
Sheffield steel
Sheffield will not be the only new enterprise zone in Yorkshire.
Another will be established in Leeds with a further 19 planned in other economically blighted urban areas across the UK.
All will be promising a new generation of engineering and IT-based jobs helped with an assurance that they will be equipped with the fastest internet access.
But there have been suggestions that the zones are merely a high-profile "scattergun" approach to help economically struggling areas.
Would a more targeted approach be more successful with financial help going to companies putting forward ideas which would lead to solid growth?
Within a couple of weeks of the Sheffield Enterprise Zone being confirmed the new Hinkley Point nuclear plant announced it was giving a contract for the supply of giant new steel components to an Italian company.
Apparently Sheffield steel makers Forgemasters did not have the facilities to successfully compete for the business.