Shot Raoul Moat PC helps Burton paramedic return home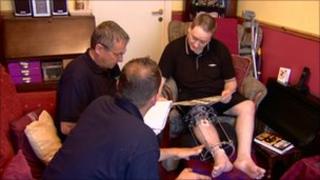 A Staffordshire paramedic who nearly died in a crash has been helped by PC David Rathband's charity the Blue Lamp Foundation so that he can go home.
John Eames was badly hurt in February when a Polish lorry crashed into the ambulance he was travelling in.
He spent 22 weeks in hospital and is the first recipient of a charity for emergency personnel set up by the officer shot in the face by Raoul Moat.
The charity paid for home improvements to enable Mr Eames to live at home.
The paramedic's right leg has been shattered and his house in Burton-on-Trent was found to be unsuitable for wheelchair use.
'Amazing feeling'
The Northumbrian charity gave him £2,500 to adapt the house so that he could move back in with his wife Sarah and recover in his own home.
"It was a strange but amazing feeling when PC Rathband himself rang me," Mr Eames said.
The foreign lorry was driving on the wrong side of the road when it crashed into the ambulance.
Mr Eames said he hoped one day to be able to resume his career as a paramedic.
PC Rathband was blinded by fugitive gunman Raoul Moat in Northumbria in July 2010 and his charity offers financial help to injured firefighters, police officers and paramedics.