British family killed in Jamaican minibus crash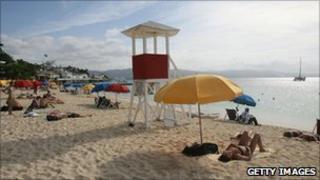 Three members of a British family and their friend have been killed in a road crash in Jamaica, police have said.
The family, mainly from Windermere, in Cumbria, was travelling in a minibus which was in collision with a pick-up truck between Kingston and Montego Bay.
Kathleen Rawlinson, 45, of Windermere, and her ex-partner Gary Bamford, 49, of Ludlow, Shropshire, died in the crash.
Mr Bamford's daughter, Caisie Muller, 17, and friend Talei Jones from Canada also died, Cumbria Police said.
Miss Rawlinson's 25-year-old daughter was injured in the collision and is in a serious but stable condition.
Her partner, a 22-year-old man from Windermere, suffered minor injuries.
Mr Bamford's 15-year-old son from Brighton also received minor injuries.
Cumbria Police said the crash happened around 00:10 on Sunday, Jamaican local time.
Family neighbour Marilyn Whitehead, 73, of Windermere, said the death was particularly tragic because Kathleen Rawlinson had been in a wheelchair following another crash.
She said: "She was a very, very nice person.
"The tragedy is that the reason she was in a wheelchair was that she had a very bad accident on the road in Spain and it's just dreadful that it's happened again and she has lost her life."
'Absolutely shocked'
She said Miss Rawlinson had moved in around 10 years ago and that her home had been made wheelchair accessible.
Mrs Whitehead added: "She didn't let anything stop her.
"I think everybody is shocked, absolutely shocked. You just don't expect it to happen. It's like lightening striking twice. I can't believe it."
In a statement issued through Cumbria Police, a family member said: "We are deeply saddened by the loss of our family. They will be greatly missed.
"Please respect our wishes at this time to be left alone to come to terms with our grief."
A police spokeswoman said: "Specially trained family liaison officers from Cumbria Police are offering support to friends and family members."