Super-sized toilet seat sales 'double'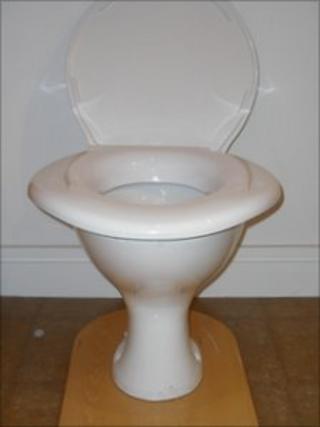 Sales of extra large toilet seats, which can carry up to 60 stone (381kg), have doubled in the past two years, a Leicestershire company has said.
Bathroom supplies firm Gordon Ellis, in Castle Donington, started selling the seats, which are 75% larger than standard, after seeing them in the US.
It said their success was probably down to expanding waistlines.
Sales director Steven Evanson said: "Every statistic in recent years shows people are getting larger."
The company makes and sells bathroom equipment to fit particular needs and Mr Evanson said the super-sized toilet seat was another example of this.
"Toilet seats in general are fairly small compared to an ordinary chair so these seats provide extra seating area for the flesh," he said.
"There are a lot of people who are slightly overweight and some who are a lot overweight - this is designed for those people."
The seats have also been bought by tall and large-framed people with a healthy weight, Mr Evanson said.
Bigger products
Government figures released earlier this month said two thirds of adults in the UK were overweight or obese.
Mr Evanson acknowledged something needed to be done about people putting on weight in the first place but felt it was important to be realistic.
"Of course we should be telling people to lose weight and we continue to do that but I think it's a bit like pushing water up a hill," he said.
"People have been asking for bigger and bigger products and this is designed for those people."
Mr Evanson said the company was now introducing an extra wide commode chair into its range.