North East MEP cries foul over Liverpool cruise plans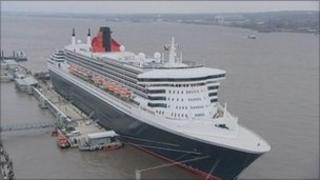 Cruises have become big business for ports up and down the UK. But it's not just the ports that benefit.
Take the North East of England. The Port of Tyne has seen its visits from cruise liner passengers double over the last year.
And the port estimates passengers on cruise liners and ferries put £44m into the region's economy each year, generating around 1,700 jobs.
It's no wonder then that ports compete keenly for the trade.
New terminal
But one potential competitor is being accused of underhand tactics.
In 2007, Liverpool got around £20m of public money to build a new cruise liner terminal.
It was a combination of grants, which included money from the North West Development Agency and the European Union.
But its competitors were concerned that would give Liverpool an unfair advantage.
No other port has had such a large recent taxpayer investment in its cruise terminal, relying instead on commercial revenues.
So to secure the funding, the government made Liverpool sign a legal agreement that it would only take cruise ships for day and overnight visits.
What it would not be able to do is compete for what are known as turnaround cruises - voyages beginning and finishing in one location.
That was significant as they are probably the most lucrative part of the trade for ports, and the towns and cities around them.
All well and good.
Except, just a year later Liverpool applied for that restriction to be lifted.
Unfair advantage
The city argued that it was merely trying to arrest a decline in traffic in a neighbouring older dock which is allowed to run cruises.
But the Labour government didn't buy the argument. It refused to lift the restrictions.
It said other ports (including Tyne) would be adversely affected, and that Liverpool would gain an unfair advantage and be able to poach trade from its competitors.
That appeared to be that.
Except when the coalition took over, Liverpool decided to make a fresh application.
The city council offered to pay back £5m of the grants over 15 years in return for the restriction being lifted.
And this time the government appears to be making encouraging noises.
It has begun a 10 week consultation before making a decision, but Shipping Minister Mike Penning has said he is keen to see cruise ships brought back to Liverpool.
And the Chancellor George Osborne - a Cheshire MP - has called the restriction "rather odd".
That's aroused much consternation in other ports.
The Port of Tyne has objected and other competitors such as Harwich and Southampton are equally concerned.
They suspect Liverpool had always planned to use the new terminal for turnaround traffic.
The row has also been taken to Europe.
Legal agreement
One of the most vocal opponents of Liverpool's plans is the Conservative North East MEP Martin Callanan.
The MEP says the restriction should not be lifted.
He said: "In my view it's very simple, the Port of Tyne, Harwich and Southampton have had no public money. Liverpool signed a legal agreement to get that £20m. If they want to tear it up, they should repay all of that money."
Martin Callanan and other MEPs are now planning to write to the European Commission calling for it to take action about the EU slice of Liverpool's funding.
He has also objected to the news that Liverpool City Council is planning to invest another £10m of taxpayers' money in a baggage-handling facility, should the restriction be lifted - something that isn't mentioned in the current consultation.
The North East, he fears, will will lose out to Liverpool.
He said: "I am demanding fairness to protect the jobs and investment in the region's cruise industry which many have worked so hard to attract. It would be perverse for our taxes to be used to take that away from us.
"There is a clear need for the region to send a strong and united message to Government that we expect a fair consultation based on a fair proposal. At the moment we have neither."
Cruise market
Liverpool though says it's a fuss about nothing.
The city council says it will not be looking to take trade from other ports, but generate new business.
It's accused other ports of trying to stifle competition rather than enshrine it, pointing out that Southampton has 65% of the existing trade.
A council spokesperson said: "We are simply looking to retain Liverpool's share of the cruise market, and are confident of a resolution that satisfies everyone."
The consultation into the plans ends on 15 September, with a decision expected in the autumn.
If it goes Liverpool's way though the row isn't likely to end there, with competitors potentially using the courts to challenge the decision.