Scarborough surgeon suspended over misconduct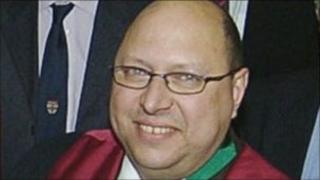 A Scarborough surgeon has been suspended for a year after incidents which put patients "at risk of harm".
Mr Nayef El-Barghouty was told at a General Medical Council hearing that his fitness to practise had been impaired due to his misconduct.
Wilfrid Taylor, 82, from Scarborough, needed three operations in one day because of mistakes, and in the third bled to death, the GMC heard.
And a woman was left with damaged vocal cords after a routine procedure.
The General Medical Council (GMC) found Mr El-Barghouty guilty of dishonesty and misconduct.
The panel said he had put patients "at unwarranted risk of harm" and "brought the medical profession into disrepute."
Lied under oath
Mr El-Barghouty worked as a vascular and general surgeon at Scarborough hospital, but following the decision, he will not be registered as a medical practitioner for the next 12 months.
Mr Taylor died after an operation to remove an aneurysm in his leg on 3 January 2009.
In the first operation by Mr El-Barghouty, to remove the aneurysm, the blood supply to his other leg was cut off, the hearing heard.
It was reconnected in a second operation, but a swab was left inside the leg.
Mr El-Barghouty then carried out a third operation to remove the swab. But a main vein was severed and Mr Taylor bled to death.
Mr Taylor's son, Michael said: "You hear of these things but you never think it's doing to happen to a member of your family."
In the subsequent inquest into Mr Taylor's death, the surgeon lied under oath about the size of the aneurism.
The GMC said this damaged the reputation of the medical profession and undermined public confidence.
Joanne Roche, 42, from Bridlington, was left with damaged vocal cord nerves after being operated on by Mr El-Barghouty in January 2008.
She needed to have her thyroid gland removed but was left breathing through a tube in her neck and had to learn to speak again, the hearing was told.
She said: "It's affected my whole life, from the clothes I wear to the cleaning products I buy, and the activities I do with my children.
"I should have gone in there and come out on the mend, instead I went in and came out in a worse situation that I've got for the rest of my life."
Scarborough and North East Yorkshire NHS Trust said in a statement: "We acknowledge the outcome of this hearing, and must now take the time to consider the consequences of the GMC's decision and the action we need to take as an organisation."