Japanese murderer jailed for Lindsay Hawker death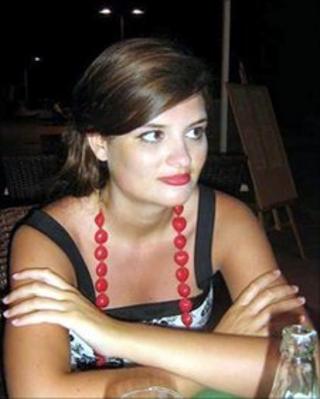 This was a day Tatsuya Ichihashi had gone to extraordinary lengths to avoid.
For more than two and a half years he was on the run, and in that time he cut his own face with scissors and a knife and went through several rounds of plastic surgery to try to change his appearance and avoid arrest.
But justice has caught up with Japan's most wanted man.
Through every minute of his trial, British couple Bill and Julia Hawker sat just a few yards from the man accused of raping and murdering their daughter, Lindsay.
Every word of the case, including the detail of Miss Hawker's last hours and death, was relayed to them by an interpreter.
In court, after the judge delivered the guilty verdict and sentenced Ichihashi to life in prison, the Hawkers looked at each other and nodded.
Barefoot escape
It was a thirst for adventure that brought their daughter to Japan.
Aged 22 and one of three sisters, she had grown up in Brandon near Coventry before graduating from Leeds University.
She got a job teaching English in Chiba, on the edge of Tokyo.
It was in March 2007, in front of a railway station, that she first encountered 28-year-old Ichihashi, the son of wealthy doctors, who had studied horticulture at Chiba University.
He struck up a conversation, and ran after Miss Hawker as she cycled away to the flat she shared with two other teachers.
At some point Ichihashi persuaded her to give him an English lesson and they met a few days later in a coffee shop.
When the session finished he said he had no money, and asked her to go back to his flat to get some.
In court, Ichihashi testified that he raped her as soon as they stepped through the door.
With Miss Hawker missing the alarm was raised and it did not take long for the police to call at Ichihashi's flat. He was there when they arrived but managed to run away barefoot.
When officers went inside they found Miss Hawker's body - battered, bruised, bound and buried in a bathtub full of soil and sand on a balcony.
By then Ichihashi had disappeared, and over the following years the case seemed to go cold.
His face was familiar to people across the country, from posters in railway stations and other public places. But Ichihashi evaded capture for so long by changing it.
In a book he later published, called Until the Arrest, he described cutting his lip to make it thinner, and removing distinctive moles from his face with a knife.
He travelled widely, from Aomori in northern Japan to Oha, a tiny subtropical island in the south, where he lived in a concrete bunker from World War II and ate wild fruit and fish, even snakes.
He used earnings from working on a building site in Osaka to pay for plastic surgery, but a visit to a clinic for an operation was to prove his undoing when staff became suspicious about their patient and handed the police a photograph of his new appearance.
In November 2009 it was released to the Japanese media and widely publicised.
Less than a week later he was recognised by a member of the public in Osaka as he waited to get on a ferry to Okinawa. He was arrested.
'Deep bow'
In court Ichihashi sat before the judges with his head bowed and unmoving. He was thin, his hair long and ragged.
At the start of each day's proceedings, and each time he was brought in after a break, he performed a deep bow to the Hawker family, a gesture of apology.
But Mr and Mrs Hawker hid their faces so as not to see it.
During his testimony, interrupted by sobs, Ichihashi admitted raping their daughter.
Shaking, he said he was responsible for her death - he strangled her to stop her crying out - but did not intend to kill her, a defence which was rejected by the judges and jurors.
The parents had called for their daughter's killer to be given the maximum punishment for his crimes.
Although Japan has death by hanging for murder, it is usually reserved for serial killers so the prosecution instead sought a life sentence.
Since their daughter's death Mr and Mrs Hawker have travelled to Japan many times, appearing on television and handing out leaflets in train stations.
They told the court they spent their savings and pension funds to make sure their daughter's killer was caught.
All they wanted, they said, was justice for Lindsay.