South Pacific athletes train at Crewe for Olympic Games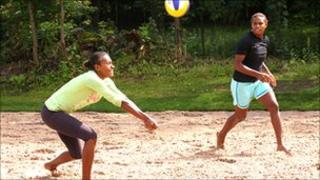 South Cheshire is welcoming athletes all the way from the South Pacific as part of their preparations for the 2012 Olympics.
Manchester Metropolitan University's (MMU) campus in Crewe is an official pre-Games training camp and teams from Oceania have agreed to use its facilities.
One country to have already benefited from the agreement is the Republic of Vanuatu.
Vanuatu has a population of about 250,000 - spread across more than 80 islands. It was once officially named "the happiest nation on the planet".
The Vanuatu women's beach volleyball team of Miller Elwin and Linline Matauatu dream of Olympic qualification.
When she was just 18, Ms Elwin's family encouraged her to leave her cane and palm leaf home on the island home of Mota Lava to live in the capital of Vanuatu, Port Vila.
Her father had a vision that she would be the first from their village to travel on a plane overseas to represent Vanuatu.
Before making the team, Ms Matauatu had never travelled further than Australia.
Now a relentless schedule of competitions takes them around the world in a bid to secure enough points for Olympic qualification.
Partly sponsored by the International Olympic Committee (IOC), the two young mothers have rapidly shot up the world rankings.
They have had a hugely successful season and have just been selected as one of the 24 teams to take part in a beach volleyball test event on 9 August at Horse Guards Parade in London.
To facilitate their continued development and help them achieve their dream, an Olympic standard beach volleyball court has been built in Crewe.
Phil Cook, MMU's Sport and Marketing Manager, said: "We were the first place in Cheshire to get a beach volleyball court. The athletes love it because their accommodation is on site.
"It's fantastic to have elite athletes on campus and it's also fantastic to have countries that we wouldn't have options to travel to.
"A number of people weren't sure where the islands of Vanuatu were. But now we've put them on the map because of the press coverage and it's also great to see the athletes interact with local people.
"We also looked at a vision for legacy. We've already set up a beach volleyball club for the local community.
"We're keen to focus on Paralympic sport as well and we will be working with a number of countries to make this happen."
Over the coming months, sports men and women from Kiribati and Papua New Guinea will also be using facilities at MMU for table tennis, boxing, judo and football.
It will be part of their preparations for next year's South Pacific Games where a lot of Olympic qualification takes place for this region.