John Moore-Robinson Stafford Hospital death: No charges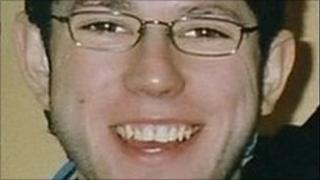 No-one will be prosecuted over an attempted cover-up following the death of a Stafford Hospital patient, the Crown Prosecution Service (CPS) said.
John Moore-Robinson, 20, from Leicestershire, died in 2006 after being discharged with an undiagnosed ruptured spleen.
An NHS manager was later sacked after asking a doctor to suppress details about his death ahead of the inquest.
Mr Moore-Robinson's parents described the decision as "disgraceful".
Death 'avoidable'
The CPS said there was not enough evidence to charge anyone with attempting to pervert the course of justice.
Mr Moore-Robinson, from Coalville, Leicestershire, was taken to the hospital's accident and emergency department after a mountain bike accident in Cannock Chase.
An X-ray revealed broken ribs but a scan to check his spleen was not conducted and he died hours later.
Senior consultant Ivan Phair said in a report written some time later that, in his opinion, the death was "avoidable" and that there was a "high probability that the level of care delivered to Mr Moore-Robinson was negligent".
But during the Francis Inquiry, which looked into standards of care at Mid Staffordshire NHS Trust, it emerged that Kate Levy, trust secretary and head of legal services, did not want his comments to be mentioned in an inquest.
She wrote two memos to him asking for the consultant to delete the criticism to avoid further distress to Mr Moore-Robinson's family and "adverse publicity".
Ms Levy was sacked in June last year and lost an appeal against her dismissal last September.
A public inquiry looking into monitoring by regulatory bodies is currently taking place after a higher-than-expected number of deaths at the hospital between 2005 and 2008.
In a statement, the CPS said: "A file was forwarded to us by Staffordshire Police to examine whether anyone had perverted the course of justice in relation to the inquest held into the death of John Moore-Robinson.
"Having had an opportunity to examine all of the available information, and applying the Code for Crown Prosecutors, we have decided that there is insufficient evidence to charge anyone with this or any other offence."
Mr Moore-Robinson's parents Frank and Janet said they planned to appeal against the decision.