War veteran wins Flybe military regalia fee battle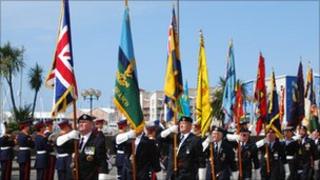 A World War II veteran charged £60 by airline Flybe to take a military standard to a liberation ceremony has made the company change its policy.
Alec Penstone, 86, of the Isle of Wight, was travelling to Jersey when he was stopped at Southampton airport.
Check-in staff said he had to pay to take the flag on the flight. Veterans flying from Exeter could not afford the fee so left regalia behind, he said.
Mr Penstone complained to Flybe, which apologised and changed its policy.
Mr Penstone, who served in the Arctic Convoy, said he was shocked as he had taken the standard all over the world and had previously been told he could put the military flag in the hold.
'Bear Nazi Swastika'
He wrote to Exeter-based Flybe management after the May flight, and was told that the fee was correct.
He pursued the issue and told the company that "if it was not for veterans like me planes would be bearing a Nazi Swastika logo".
The company has now changed its policy and said it would not charge for military regalia within the 20kg baggage limit.
In a statement, a spokesperson said: "Clearly this was an exceptional request and the member of staff involved is genuinely distressed to have caused any offence.
"Flybe fully appreciates that such valued and historically relevant oversize items of military regalia need to be carried to special events from time to time and has now amended officially its rules of carriage."
Mr Penstone said: "I am very very pleased with the response that Flybe has given to ensure that in future these items can be carried free of charge.
"I wish it could have been done much easier but they have made a public apology, great news."