Red squirrel breeding programme for East Anglia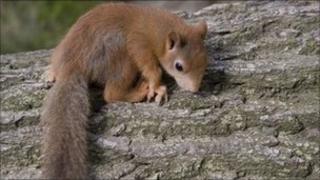 Native red squirrel numbers look set to be boosted after a breeding programme was approved for a farm in Norfolk.
The Cambridge-based Countryside Restoration Trust secured permission from Broadland District Council to build two breeding enclosures.
Red squirrel numbers have been in decline in the UK since the introduction of American greys which carry a disease fatal to red squirrels.
The trust plans to reintroduce the reds into Norfolk and Cambridgeshire.
Chairman of the conservation charity, Robin Page, said: "Red squirrels are fantastic animals, but people just ignore them and are letting the greys take over.
"They are alien and carry squirrel pox which is alright for them, but kills the reds."
Exciting challenge
The red squirrel breeding enclosures will be set up at Mayfields, one of the trust's farms in north Norfolk.
Tenant farmer, Sarah Jenkins, said: "It is going to be a challenge, but an exciting one and very worthwhile. We must do all we can to save the red squirrel from British extinction".
Mr Page said that the charity planned to join with other captive breeding programmes, and if successful, he hoped to be able to reintroduce the animals into areas of East Anglia where they used to be prevalent.
"We're trying to get reds onto secure islands including places like Mersea Island. It's a bit muddy, but I'm sure they'll like it," he said.
"In the long term I'd like some of these red squirrels to end up in Thetford Forest, where they traditionally were.
"And as recently as the 1970s there were red squirrels just north of Cambridge, and it would be fantastic to return them to Cambridgeshire as well."
Mr Page added that without intervention and breeding programmes, red squirrels could become extinct in the UK within 25 years.