Great Western Ambulance Service reviews building stock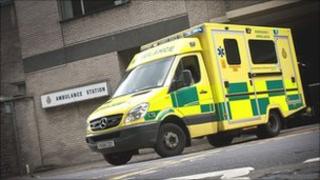 Great Western Ambulance Service (GWAS) is reviewing its stock of ageing buildings ahead of the planned roll-out of the non-emergency 111 service.
The trust said the new phone number was expected to quadruple the volume of calls it receives.
It said its current call-handling system would have to be "significantly increased" to cope with the demand.
GWAS owns or leases more than 30 buildings in Wiltshire, Gloucestershire and the Bristol area.
It has three emergency operations centres (EOCs) which deal with more than 250,000 calls a year, a headquarters in Chippenham which is nearing the end of its lease and 30 ambulance stations, most of which are at least 40 years old.
Interim chief executive, Martin Flaherty, said the review was about ensuring that as much income as possible went into frontline services, which included having staff in modern, fit-for-purpose bases.
Reduce pressure
"Bidding to run the 111 service in our region is a natural ambition for us, given that we already have considerable in-house clinical expertise and knowledge in handling emergency calls and the out-of-hours GP service in Gloucestershire," he said.
"However, [our] facilities do not have the capacity to handle the considerable increase in call numbers that securing the 111 service would bring.
"Therefore, we need to look now at how we could accommodate that additional activity for the benefit of patients and our staff."
The new 111 service is being piloted in four areas, with further trials due to start in other parts of England towards the end of this year.
People calling the number will be able to get health advice and information about services such as out-of-hours GPs, emergency dentists and 24-hour pharmacies.