Final member of RAF cigarette smuggle gang escapes jail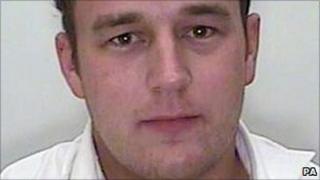 The final member of a gang which smuggled seven million cigarettes into Britain on military flights from the Middle East has been spared jail.
Former RAF serviceman Thomas Warren, 27, received a 12-month suspended term after admitting conspiracy to evade duty on cigarettes.
Hauls of cigarettes were flown into RAF bases in Oxfordshire and Wiltshire and ended up in the north east England.
Three other ex-RAF servicemen and three civilians have already been sentenced.
Analysis of mobile phones, computers and other documents found that at least 1.14 million cigarettes were smuggled on flights from Muscat, Oman - evading around £204,000 in duty and VAT.
Another six million cigarettes were smuggled in on flights from Kabul, Afghanistan, evading almost £1.1 million in duty and VAT.
The servicemen all worked as "air movers" loading and unloading military aircraft to smuggle cigarettes through RAF Brize Norton in Oxfordshire and RAF Lyneham in Wiltshire.
'Abused positions'
Cpl Warren, formerly of RAF Lyneham, was also ordered to carry out 250 hours of unpaid work and adhere to a night-time curfew for three months.
Last year, Cpl Stuart Helens, 31, Sgt Stuart Walker, 43, and Senior Aircraftman Paul Garbutt, 31, all admitted their part in the conspiracy.
Civilians Lisa Harrison, 36, Alison McCabe, 45, and Christopher Garbutt, 27 - Paul Garbutt's brother - also owned up to being part of the scam between late 2008 and May 2009.
In February, Helens and Paul Garbutt were jailed while Christopher Garbutt received a suspended prison sentence.
McCabe received a six-month jail term, suspended for 18 months, and Harrison got a 12-month prison sentence, suspended for two years.
Sentencing Warren, Judge Michael Longman at Bristol Crown Court referred to "the abuse of the high level of trust and responsibility" placed upon Warren.
However, he said having taken into account Warren's previous behaviour and good conduct into consideration, he could impose a suspended sentence.
Adrian Farley, HMRC assistant director criminal investigation, said: "Warren and his co-conspirators abused their positions of trust to smuggle huge quantities of cigarettes into UK airbases and onto the UK's streets.
"Not only did this criminal gang undercut honest retailers, but, ironically through their actions to evade duty, these airmen deprived the UK and their fellow servicemen and women of vital public funds."
An RAF spokesman added: "Any abuse of the RAF air transport service for the illegal importation of contraband is viewed very seriously and appropriate action will always be taken against those who break the rules.
"These men have been discharged from the RAF."