Middlesbrough's Ray Mallon hits out at 'unfair' cuts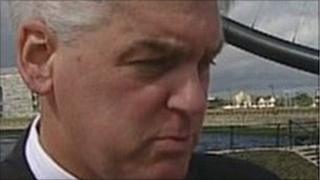 Ray Mallon has hit out at what he described as "unfair" governments cuts.
The elected mayor of Middlesbrough had commissioned research from Newcastle University which concluded they would impact unevenly around the country.
Areas relying more heavily on public sector jobs would struggle more, and public services would be reduced just as the level of need increased.
Mr Mallon said deprived areas like Middlesbrough had been dealt a "disgraceful" hand.
He said that, as a result of its latest settlement, it was going to have to make cuts worth £50m over four years.
"I could live with some of that, but not all of it," he said.
"These cuts are too quick, too deep and too savage.
"This government doesn't understand what social deprivation looks like and they certainly don't know what it feels like.
"It's an open-and-shut case that Middlesbrough has been dealt a disgraceful hand.
"I am angry and very disappointed that people like David Cameron and the people around him can treat us as badly as this."
The report, by regional government specialist Professor John Tomaney, of Newcastle University, cost £15,000 to produce.
'Progressive and fair'
During his former career as a detective, Mr Mallon, was nicknamed "Robocop" for his tough stance on crime.
Now 55, he was elected on an independent ticket in 2002, and re-elected in 2007, and is considering standing for a third term in May.
He invited Communities and Local Government Secretary Eric Pickles to Middlesbrough to discuss the cuts, and added: "If he comes, I will buy him a pair of braces."
Local Government Minister Grant Shapps said: "The settlement is progressive and fair to both North and South, and to rural and urban England.
"Middlesbrough is this year receiving £611 a head in Government grants. This compares with £186 a head in Mid-Sussex."