Recession link to rustling in Cumbria and County Durham
5 December 2010

From the section

England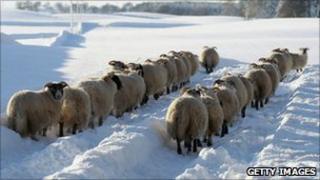 The rising price of meat and the effects of the recession have been blamed for an increase in sheep rustling in Cumbria and County Durham.
Sheep thefts have risen fivefold in the last 18 months compared with the last decade, insurer NFU Mutual said.
In some cases gangs have gathered up to 100 animals and used lorries to transport sheep away to be sold illegally, a spokesman said.
Police have urged people to look out for suspicious activity on farms.
NFU Mutual spokesman Tim Price said: "In the last 18 months we have seen the number of rustling thefts from farms increase fivefold.
"We have had about 10 years at a very low level and it has taken off again.
"We think there are two factors: the price of meat has shot up, and the recession. In the past when there is a downturn in the economy, rural crime goes up."
Mr Price said thieves were also stealing hay after recent price rises due to last year's cold winter and a relatively poor crop in places this summer.