Low-key GCHQ protest over surveillance case under way
29 August 2014

From the section

UK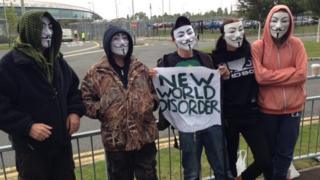 A low-key protest by online activists has started outside the UK Government Communications Headquarters (GCHQ).
A larger demonstration by the We Are Anonymous group is expected over the weekend although there is a large police presence at the Cheltenham site.
Protesters are supporting a legal challenge by civil liberty groups against the alleged use of mass surveillance by intelligence services.
The UK government says interception is subject to strict controls.
Police presence
Gloucestershire police said the number of protestors at the scene were outnumbered by officers and members of the media.
Officers from forces in Kent, South Wales and the Metropolitan Police had all been drafted in.
The BBC was told that staff were driven on to the site by bus on Friday morning. Normally, they are dropped off outside the complex.
Earlier reports suggested the protest could have been delayed due to the low turnout.
Privacy International and Liberty are among those challenging the legality of alleged "interception, collection and use of communications" by agencies, at the tribunal.
This follows revelations by the former US intelligence analyst Edward Snowden about UK and US surveillance practices.
The case - also brought by Amnesty International, the American Civil Liberties Union and other groups - centres on the alleged use by UK intelligence and security agencies of a mass surveillance operation called Tempora.
The UK government has neither confirmed nor denied the existence of the operation.
---
Investigatory Powers Tribunal
Set up in October 2000
Can investigate claims against MI5, MI6 or GCHQ
Eight men and two women make up the tribunal, which comprises senior barristers
Members serve terms of five years after which they reapply or stand down
Current president Mr Justice Burton has been on the tribunal since its inception
---
But documents leaked by whistleblower Mr Snowden and published in the Guardian newspaper claimed the existence of Tempora, which the paper said allowed access to the recordings of phone calls, the content of email messages and entries on Facebook.
The Investigatory Powers Tribunal (IPT) - which monitors whether the UK's spying laws are being observed - is seeking to determine whether the Tempora programme exists and, if so, whether it violates articles 8 and 10 of the European Convention on Human Rights.
It is also examining the UK's use of the US Prism mass data mining programme at a hearing in the Rolls Building in central London.
The BBC's legal affairs correspondent Clive Coleman said the "unprecedented legal challenge" - which will be held in public - was likely to be a "highly unusual hearing".
He said the case would be held on the basis of "agreed hypothetical facts".
A spokeswoman for Liberty, which campaigns for civil liberties, said it was making the challenge after concluding it was "highly likely" it had been monitored.
Lawyers acting for the security services will appear before the IPT to argue that, if indiscriminate mass surveillance had taken place, it was lawful and did not breach the right to privacy or freedom of expression.