Undercover police officers will not face sex charges
21 August 2014

From the section

UK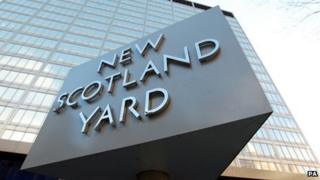 Four undercover police officers accused of starting relationships with women will not face sexual offence charges, prosecutors have said.
The Crown Prosecution Service (CPS) said there was insufficient evidence to prosecute the officers for offences including rape and sexual assault.
They are alleged to have deceived political activists into sexual relationships.
The Metropolitan Police said it would now consider misconduct proceedings.
'Not relevant'
The investigation is part of Operation Herne, which is concerned with the activities of the Met's Special Demonstration Squad (SDS).
A number of allegations were made after former PC Mark Kennedy was revealed in 2011 as an undercover officer who had infiltrated environmental protest groups.
The other charges considered by the CPS were procuring a woman to have sexual intercourse by false pretences, misconduct in public office and breaches of the Official Secrets Act.
The CPS said the fact the women they formed sexual relationships with were unaware they were police officers was not particularly relevant under the Sexual Offences Act.
To prove there was misconduct, prosecutors would have had to demonstrate that the officers had knowingly abused their position in order to bring the sexual relationship about.
There was insufficient evidence to show this, the CPS said, and as such there would be no charges.
The CPS said: "Having carefully considered all the available evidence, provided at the end of a thorough investigation, we have determined that there is insufficient evidence for a realistic prospect of conviction for any offences against any of the officers."
The Metropolitan Police has previously insisted that in relation to two of the police officers the relationships they formed with women were genuine and not a police tactic.
'Quite staggering'
Separately, more than 10 women are suing the Metropolitan Police for emotional trauma allegedly caused by the activities of six undercover officers.
Scotland Yard has named two men who had relationships with women while working as undercover officers as Jim Boyling and Bob Lambert.
It came after a High Court judge ruled that the Met could no longer rely on its policy of "neither confirm nor deny" in response to the damages claims.
Lawyer Harriet Wistrich, who is representing a number of the women in the civil courts, said they reacted with dismay to the CPS announcement.
Ms Wistrich said: "The women have indicated their determination to continue their battle to expose the grave violations and achieve justice and accountability."
One of the women said she would consider seeking a review of the CPS decision.
Scotland Yard said it was not prepared to discuss the identity of the officers who could face misconduct proceedings.
Green Party London Assembly member Jenny Jones, who has campaigned in support of the women suing the Met, said she found the decision of the CPS "quite staggering".
"I hope the CPS will reconsider its decision and put these cases before a jury. I urge the Mayor of London to lobby the DPP [Director of Public Prosecutions to do this]."