I was set up by friend over Syria cash, says student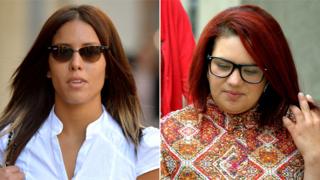 A student accused of trying to smuggle money to fighters in Syria has told a court she was "set up" by her friend.
Nawal Msaad, 27, was stopped at Heathrow airport with 20,000 euros (£16,000) in her underwear as she prepared to board a flight to Istanbul.
Prosecutors say she was recruited by her friend, Amal El-Wahabi, to take money to Mrs El-Wahabi's husband in Syria "to support the jihadist cause".
The two women, both from north London, deny funding terrorism.
Miss Msaad denied holding strong religious or political views as she gave evidence at the Old Bailey on Wednesday.
She told jurors she had not asked where the money had come from, but believed it would be used by Mrs El-Wahabi, also 27, and her husband, Aine Davis, to set up a home in Turkey.
The court heard that Mr Davis, 30, who was known as Hamza, was fighting with rebels in Syria.
Asked if she felt her friend had "stitched her up", Miss Msaad said: "She wasn't completely honest with me about where the money came from and so I do get that feeling... the feeling that I've been set up."
'Not very close'
Miss Msaad, a first year student at London Metropolitan University at the time of her arrest, also told the jury the pair had not been particularly close.
"I've always liked Amal very much but because we don't see each other that often I can't say we are very close," she said.
Her barrister, Naeem Mian, asked her if she suspected the money she was carrying was for terrorism. "No," she replied.
She also told the court she did not suspect the money was from the proceeds of drug dealing or from any other criminal activity. She said she had never suspected Mrs El-Wahabi was involved in terrorism.
Miss Msaad told jurors her family, who are originally from Morocco, were "not particularly religious". She added: "I wouldn't call myself particularly religious... [but] I do pray. I fast."
The court heard that Mr Davis had previously made money from drug dealing and had convictions for possessing a firearm and possessing cannabis.
The trial continues.