England out of 'inequality World Cup' in second round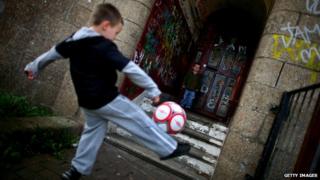 England would only make the second round before facing defeat in an 'inequality World Cup', Oxfam has said.
The aid agency is seeking to highlight gaps between rich and poor around the world and calculates England would lose to Japan once out of the group stages.
Belgium - with the smallest divide - come out on top, while England's fierce football rivals Germany come second.
Oxfam accused world leaders of "rigging the economic rules" in favour of the rich over the poor.
A recent Oxfam report found that the world's richest 85 people now own as much as the poorest half of the world's population.
'Favour the richest'
Football World Cup hosts and favourites Brazil would crash out of the tournament in the first round, it says, describing the wealth gap in Latin America as "staggering".
However it adds that the region is one of the few places in the world where income differences are declining.
Oxfam's Ricardo Fuentes-Nieva said: "Despite some significant progress over recent years it continues to be among the most unequal regions in the world.
"The rules of the game in these countries still largely work in favour of the richest - and therefore the most powerful citizens."
Turning to England's prospects, Oxfam's head of research added: "In our World Cup, England pay the penalty for successive governments' failure to tackle the growing gap between rich and poor.
"We live in a country where the richest 10% earn more than the bottom 40% and five families between them own more than 12 million people."
'Overtly political'
Other poor performers highlighted by the charity were Russia and Ghana, while the US, Nigeria, Mexico, Algeria, Uruguay, Ecuador, Australia and the Ivory Coast would all come third in their groups.
Spain would make it to the semi-finals before losing to Japan, it said.
The favourites and reigning champions lag behind on poverty rates, corruption and health and education indicator, according to its wall chart.
Meanwhile, in the UK, Oxfam is the subject of a complaint from a Conservative Party MP for its campaign against welfare cuts, zero-hour contracts, high prices and unemployment.
Bournemouth West MP Conor Burns said he was "shocked" by the "overtly political" campaign and has asked the Charity Commission to carry out an urgent investigation.
The FIFA World Cup starts on Thursday when Brazil take on Croatia.