Coroner criticises MoD over Afghanistan fire deaths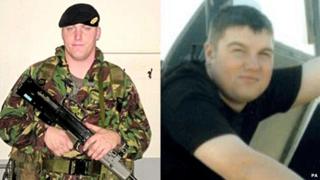 A coroner has criticised the MoD for a series of failures over the deaths of two soldiers in a fire as they slept in a tent at Camp Bastion in Afghanistan.
Recording a narrative conclusion, Wiltshire and Swindon coroner David Ridley said he would produce a report on preventing further such deaths.
Pte Rob Wood, 28, from Hampshire, and Pte Dean Hutchinson, 23, from Durham, were killed in the fire in 2011.
The Ministry of Defence now has 56 days to reply in writing.
An Army spokesman said: "The coroner has identified a number of failings that contributed to their tragic deaths for which we are very sorry.
"A number of improvements have been made to fire safety procedures since 2011 but we will study the coroner's recommendations to ensure everything is being done to reduce the risk to personnel and prevent future incidents."
Mr Ridley listed eight areas where there was either a "systemic failure" or "failure" in the circumstances that led to the men's deaths in the early hours of 14 February 2011.
The soldiers, who served with the Royal Logistic Corps, were sleeping in a tented "transport troop" office so they could respond more quickly when vital supplies arrived at the military base.
During the 10-day inquest in Salisbury, Wiltshire, eyewitnesses described smelling smoke coming from an area housing a flat-screen TV, boiler and fridge and seeing flames coming from cabling leading to an air conditioning unit.
Investigators have concluded the fire started in the vicinity of the electrical appliances and quickly spread, igniting combustible materials stored nearby.
Logistical centre
In making his narrative conclusion, the coroner listed "contributory factors" in the deaths of the two soldiers:
The systemic failure by the chain of command to communicate the occurrence of sleeping on duties at night to key personnel, such as the unit fire safety officer
The failure to police the occurrence of sleeping on duties at night through the use of random checks
The failure to effectively check the working functionality of a smoke detector located inside the tent where the fire started, resulting in it not being in working order at the time of the fire
The systemic failure to provide effective training, especially to fire NCOs, to identify the potential risk of the overloading of sockets and extension blocks
The failure to rectify an error in the December 2010 fire risk assessment after it became known that personnel would be sleeping in the tent
The failure to request a fresh fire risk assessment following structural alterations that took place in January 2011
The absence of the transport troop tent from the theatre asset register
In its response, the MoD will have to give details of actions that have been taken or are proposed to be taken, or an explanation as to why no action will be taken to prevent future similar deaths.